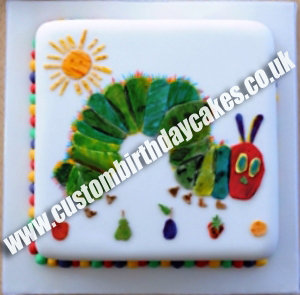 For more children's cake designs, go to Birthday Cakes Boys and Girls
The Very Hungry Caterpillar has a been a popular children's book since it was first published in 1969, written by Eric Carle.  To this day, it is still a popular request for Birthday Cakes, which is why we featured one of the recent ones made on this site.  To date, the book has sold over 30 million copies so it is no wonder children love this cake so much.
The cake features the caterpillar itself in its glorious green and red colour, along with all that food he has been eating along the way.
The pricing starts from £55, depending on the size and flavour you choose.  We can assure you that the person receiving it will love the design and the taste as well.
You can contact Lily directly on
07949 828061

or email us using the secure contact form here.