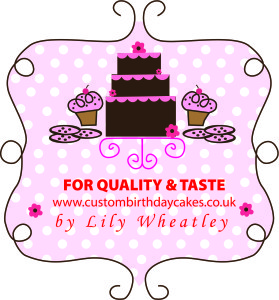 My name is Lily Wheatley, owner of Custom Birthday Cakes Surrey. I am a full time Mum who is very passionate about baking. I live in Sutton, Surrey but can deliver around the Surrey area as far as Guildford, and also to London.
When I make a personalised birthday cake for a customer, I always make a cake that is not only beautiful but also happy for my own daughter to eat it. The reason being is I do not use preservatives and I never use frozen cakes. My cakes are always freshly made to give the best flavour and texture. The only cakes I keep are Fruit Cake; this is because the flavour matures with keeping.
I really enjoy baking cakes and I look forward to creating something unique for your special occasion.
[testimonial1 author="Jacquie Widdowson – London Borough of Sutton Library "]"Let me express our warmest gratitude for your efforts, the cake was a masterpiece and it went down a storm – it was the talking point of the whole event! Many people (including the Mayor) commented that they would have liked to have met you in person to congratulate you on your fine work."[/testimonial1]
[testimonial1 author="Richard Bodle"]"Huge thank you Lily for the birthday cake that you made for my wife. The decoration was wonderful, the detail was brilliant and the cake was delicious.. Everyone enjoyed it – and some said it was the best chocolate cake they had ever tasted!"[/testimonial1]
[testimonial1 author="Lisa Meek"]"We had Lily's black forest gateau for joint birthdays in July. It was superb, absolutely fantastic! Everyone thoroughly enjoyed the cake. What a lovely way to complete a day of celebration!! I will definitely contact Lily again for my next party."[/testimonial1]
[testimonial1 author="Emma Bennett"]"Lily made my daughter's birthday cake, it was absolutely delicious and received many good comments from the party guests. My 2 year old daughter was also delighted and talked about her birthday cake for weeks after. I would highly recommend lily's services."[/testimonial1]
Please contact us using the secure contact form here or if you need to contact Lily directly, call 
07949 828061

.